Last week Adobe announced a major update to Adobe Captivate: Adobe Captivate 9. While similar in appearance to Adobe Captivate 8, version 9 offers several enhancements that I'll cover over the next few weeks. This week: Knowledge Check questions.
When adding question slides to a project, you can insert graded questions, survey questions (questions that do not have a right or wrong answer), Pretest questions (questions with right and wrong answers that can be worth points, but are not graded along with regular question slides), and now, Knowledge Check Slides.
Similar to Pretest questions, Knowledge Check slides do not count against the overall quiz score. While knowledge Check questions aren't worth any points, they can provide a higher-level of feedback to the learner than Pretest questions.
To insert a knowledge check question, choose Quiz > Knowledge Check Slide.
As with all question slides, Knowledge Check slides appear on the Filmstrip. However, you'll notice that these slides include a graduation cap icon not seen with the other question types.
Once added to a project, Knowledge Check slides behave like any other question slide with a few notable exceptions. As mentioned above, Pretest questions can be worth points, Knowledge Check questions are not. And in the image below, notice the Actions tab (on the Properties Inspector) for a Pretest question. You'll notice that there's very little in the way of Actions.
Compare the Actions you see above with those available for a Knowledge Check slide. Simply put, there's more opportunity for you as a developer to ensure your learner is grasping a concept with a Knowledge Check slide than with a Pretest slide.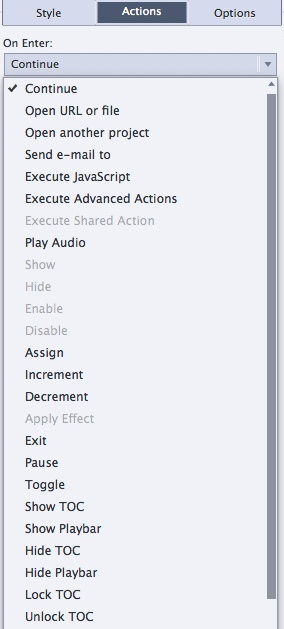 If you'd like to see the Knowledge Check feature in action, 
watch this YouTube video
 created by Adobe's 
Dr. Allen Partridge
.
Important Note to Windows Users:
 Adobe is no longer supporting 32-bit operating systems. Captivate 9 will only work if you have Windows 64-bit . If you are using an older computer or OS, 
you won't be able to use Captivate 9 at all
. It's a good idea to check out 
Captivate's new system requirements
 prior to upgrading to Captivate 9.
***